FloScan Single Engine Fuel Meter - I/B, I/O, O/B - Up To 100HP - 0-10GPH
--- Discontinued ---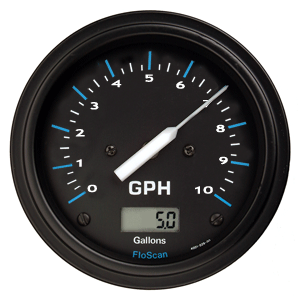 CruiseMaster 5500
A Series 5500 CruiseMaster Fuel Monitoring System will increase any boat's effective range by accurately recording total fuel consumed by pinpointing optimum speed. Now you can spend more time fishing or cruising knowing you have enough fuel to make it to port. CruiseMaster brings you more than peace of mind and increased cruising range, it also pays for itself in better fuel economy.
GPH: 0-10
Fuel Type: Gas
Engine Qty: Single
Drive Type: Inboard, Outboard, Inboard\Outboard
Fuel Sensor: 20B
Max Horsepower: 100HP
Features:
Self contained Totalizer with permanent LCD display records fuel consumed up to 99,999 gallons. Resettable or non-resettable totalizer operating mode. SPST type switch required for resetting totalizer. We recommend Sierra Marine part number TG40020 for this feature

Model 20B Flow Sensor with solid state signal generator for maintenance free use. Installs between tank and fuel pump.

Microprocessor-based electronics with user adjustable totalizer calibration for superior accuracy. Panel mounted instrument fits 3-1/16" diameter opening.
Box Dimensions
7"H x 7"W x 7"L WT: 2.10lbs
Categories
Marine Instruments | Fuel Meters

Old Category
FUEL FLOW METERS
Copyright 2016 CWR Electronics. All rights Reserved.
All products, services and/or company names mentioned herein are trademarks of their respective owners.