Bounty Hunter Tracker II Metal Detector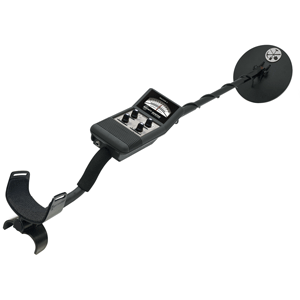 GENERAL INFORMATION
Manufacturer:
Bounty Hunter
CARRY CASES
SKU
Description
List Price
BOUNTY HUNTER NYLON CARRY BAG CBAG UNIVRSAL CARRYING BAG
34.99
RELATED ITEMS
SKU
Description
List Price
BOUNTY HUNTER POUCH AND DIGGER TP-KIT POUCH AND DIGGER COMBO
29.99
BOUNTY HUNTER GOLD PROSPECTING KIT
39.99
BOUNTY HUNTER PRO GOLD PROSPECTING KIT
79.99
BOUNTY HUNTER HARDROCK PROSPECTING KIT
169.00
BOUNTY HUNTER TRUE STEREO HEADPHONES
39.99
The Tracker II is one of Bounty Hunter's classic metal detector packages, but with completely redesigned graphics package and electronics for the best features and performance.
The Tracker II combines the ease of automatic ground balancing with manual settings for some of the most challenging types of soil. Whether sifting through the sandy beaches for lost items or searching for silver, the Tracker II can do it all.
Automatic and manual ground balance for all ground conditions

Easy to understand operation gets you started right away

2-tone audio feedback so you can discover valuables and discard unwanted items

Headphone jack with 1/4" plug can be used with most headphones
Key Features:
7" Coin Depth Detection

2' Large Object Detection

2 9-volt Batteries Required

Intensity Meter

Preset Ground Balance

User-Controlled Ground Balance

Motion all-metal

Progressive Discrimination

Two-Tone Audio

7" Closed Waterproof Coil
Analog/Digital Display
Analog
Box Dimensions
7"H x 11"W x 29"L WT: 4.30lbs
Categories
Outdoor | Metal Detectors

Old Category
METAL DETECTORS
Copyright 2016 CWR Electronics. All rights Reserved.
All products, services and/or company names mentioned herein are trademarks of their respective owners.