Bounty Hunter Quick Silver Metal Detector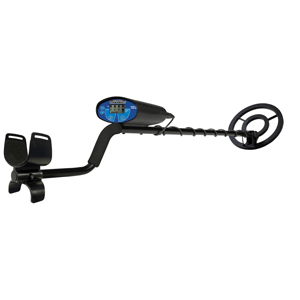 GENERAL INFORMATION
Manufacturer:
Bounty Hunter
CARRY CASES
SKU
Description
List Price
BOUNTY HUNTER NYLON CARRY BAG CBAG UNIVRSAL CARRYING BAG
34.99
RELATED ITEMS
SKU
Description
List Price
BOUNTY HUNTER POUCH AND DIGGER TP-KIT POUCH AND DIGGER COMBO
29.99
BOUNTY HUNTER PINPOINTER
69.99
BOUNTY HUNTER GOLD PROSPECTING KIT
39.99
BOUNTY HUNTER PRO GOLD PROSPECTING KIT
79.99
BOUNTY HUNTER HARDROCK PROSPECTING KIT
169.00
BOUNTY HUNTER 10" MAGNUM COIL WIDE FIELD OF DETECTION
69.99
BOUNTY HUNTER 4" GOLD COIL 4" GOLD NUGGET COIL
39.99
COVERS
SKU
Description
List Price
BOUNTY HUNTER 8" COIL COVER
19.99
Fully Automatic ground balance with Squelch-Tech ® eliminates false signals

Push-button discrimination and one-touch depth control makes it easier to use

Four segment digital target identification and three tone audio feedback

Easy view LCD display is readable at varying distances
Key Features:
8" Coin Depth Detection

3' Large Object Detection

2 9-volt Batteries required

motion all-metal

Progressive Discrimination

Three-Tone Audio

8" Open Waterproof Coil
Analog/Digital Display
Digital
Box Dimensions
7"H x 11"W x 29"L WT: 4.00lbs
Categories
Outdoor | Metal Detectors

Old Category
METAL DETECTORS
Copyright 2016 CWR Electronics. All rights Reserved.
All products, services and/or company names mentioned herein are trademarks of their respective owners.