Bounty Hunter Camo-LS Metal Detector
--- Discontinued ---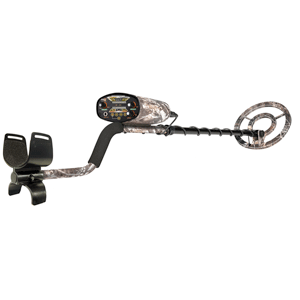 GENERAL INFORMATION
Manufacturer:
Bounty Hunter
SKU
Description
List Price
BOUNTY HUNTER NYLON CARRY BAG CBAG UNIVRSAL CARRYING BAG
34.99
BOUNTY HUNTER POUCH AND DIGGER TP-KIT POUCH AND DIGGER COMBO
29.99
BOUNTY HUNTER PINPOINTER
69.99
BOUNTY HUNTER GOLD PROSPECTING KIT
39.99
BOUNTY HUNTER PRO GOLD PROSPECTING KIT
79.99
BOUNTY HUNTER HARDROCK PROSPECTING KIT
169.00
BOUNTY HUNTER TRUE STEREO HEADPHONES
39.99
BOUNTY HUNTER 10" MAGNUM COIL WIDE FIELD OF DETECTION
69.99
BOUNTY HUNTER 4" GOLD COIL 4" GOLD NUGGET COIL
39.99
BOUNTY HUNTER 8" COIL COVER
14.99
Bounty Hunter Camo-LS


Land Star features in a stylish SuperFlauge® camoflauge pattern

Choose between automatic Ground-Tra® or variable ground balancing

Four level iron discrimination maximizes relic hunting

Digital coin depth indicator tells you how deep to dig
Analog/Digital Display
Digital
Box Dimensions
7"H x 11"W x 29"L WT: 5.0lbs
Categories
Outdoor | Metal Detectors

Old Category
METAL DETECTORS
Copyright 2015 CWR Electronics. All rights Reserved.
All products, services and/or company names mentioned herein are trademarks of their respective owners.