Minn Kota Maxxum 55/SC/BG Freshwater Bow-Mount Trolling Motor - 12V-55lbs-42"
--- Discontinued ---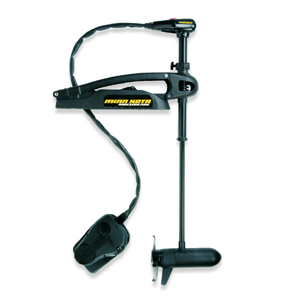 MOUNTING BRACKETS
SKU
Description
List Price
MINN KOTA MKR-15 TRANSDUCER MOUNTING KIT
19.99
MINN KOTA MKA-29 BOW MOUNT STABILIZER KIT
39.99
ELECTRICAL
SKU
Description
List Price
MINN KOTA MKR-20 TROLLING MOTOR PLUG
19.99
MINN KOTA MKR-12 QUICK CONNECTOR PLUG
9.99
POWER/CHARGING CABLES
SKU
Description
List Price
MINN KOTA MK-BC-1 BATTERY CONNECTORS
24.99
MINN KOTA TROLLING MOTOR POWER CENTER
64.99
PROPELLERS
SKU
Description
List Price
MINN KOTA MKP-32 PROP 209-1160 WEEDLESS WEDGE 2
26.99
MINN KOTA MKP-9 PROP NUT 3/8" 2 WASHERS 2 PINS A
6.99
CHARGERS
SKU
Description
List Price
MINN KOTA MK-110P PORTABLE 10 AMP CHARGER
84.99
Maxxum Freshwater Bow - Mount Trolling MotorMAXXUM®
Maxxumreg; is unmistakably the most powerful feature-packed trolling motor you can put on the bow of your boat.
Motor HighlightsBowGuard 360°
Exclusive feature breaks away on impact from any angle, protecting your motor, shaft and boat. Provides uninterrupted fishing as the motor will automatically reset itself. No more leaning over the bow of your boat on your hands and knees wrestling with resetting your motor. Easily detaches for added convenience.

MAXXUM Mount


The strongest bow-mount system in the world. Go for broke without worrying about breaking down. Features Minn Kotareg;s exclusive Bowguard 360™ breaks away on impact from any angle to protect motor, shaft and boat. Automatically resets itself for uninterrupted fishing. Stowed, the Maxxum Mount wont budge, flex or vibrate.


Features:

Cable Steer Foot Pedal


Puts you in complete control. Easy to use and ergonomically designed for all-day comfort. Heel/toe action provides reliable, responsive cable steering control. Available on all foot control models.


Indestructible Composite Shaft


The standard of the industry since 1991! Pound for pound, our ultra high-yield composite material has been tested to be three times the strength of steel. Virtually indestructible, it flexes on impact and then returns to its original position. Unlike steel, will not kink, break, rust or corrode guaranteed for life!


Cool, Quiet Power


Nothing runs cooler or more quietly than Minn Kotareg;. Extra large windings and commutators are used to dissipate heat, resulting in cooler operation, extended battery power and longer motor life. A unique bearing system produces low rpms/high torque to cut down on fish-spooking noise so quiet theyll never hear you coming.


Weedless Wedge 2 Prop


The latest generation of this legendary Roland Martin design features swept-back and flared blades to "wedge" weeds away. Pass through the thick stuff at any speed without battery-draining "chopping and hacking." A Minn Kotareg; exclusive!


Warranty


2-Year Warranty All Maxxum bow-mount trolling motors feature Minn Kotas two-year warranty.
Boat Length - Max (Feet)
21'
Mounting Bracket
Bowguard 360
Salt Water/Fresh Water
Fresh
Shaft Length (Inches)
42"
Voltage - Input Range (Volts)
12v
Box Dimensions
12"H x 19"W x 64"L WT: 54.0lbs
Categories
Boat Outfitting | Trolling Motors

Old Category
TROLLING MOTORS
Copyright 2016 CWR Electronics. All rights Reserved.
All products, services and/or company names mentioned herein are trademarks of their respective owners.