AIRHEAD Self-Centering Tow Harness
--- Discontinued ---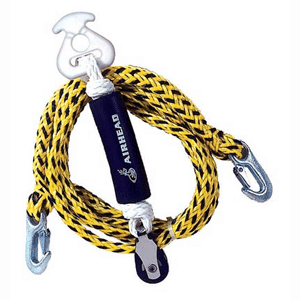 GENERAL INFORMATION
Manufacturer:
AIRHEAD Watersports
TOW ROPE
SKU
Description
List Price
AIRHEAD 4,150 LB BUNGEE TUBE TOW ROPE 50 FT 1-4 RIDERS
41.99
AIRHEAD DELUXE 1,500 LB TUBE TOW ROPE 60 FT. 1-2 RIDERS
16.99
Airhead® Self-Centering Tow Harness

This 3,000-pound tensile strength tow harness is perfect for pulling skiers, wake boarders and up to 2 rider towables. A stainless steel pulley glides along the length of the rope to provide the optimum pull at all times. Simply clip it onto your boat with the 5,000-pound tensile strength hooks provided, and attach your ski or tube rope to the heavy duty Kwik-Connect. The 6" float ensures that the Kwik-Connect floats, away from your propeller. Its 12 feet long to fit pontoon and larger boats. Yellow / Black.
Box Dimensions
2"H x 10"W x 10"L WT: 2.0lbs
Categories

Watersports | Tow Harness

Old Category
FISHING/WATERSPORTS
Copyright 2016 CWR Electronics. All rights Reserved.
All products, services and/or company names mentioned herein are trademarks of their respective owners.