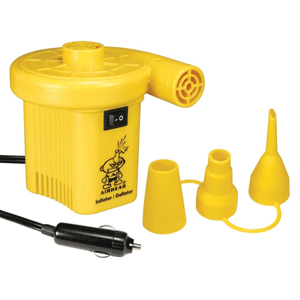 GENERAL INFORMATION
Manufacturer:
AIRHEAD Watersports
AIRHEAD® Air Pump, 12v

This high-volume (290 liters / minute) 12 volt portable air pump inflates and deflates towables, boats, pools, mattresses and beach toys quickly and effectively. Most pumps on the market dont put out this kind of air volume and pressure (380 liters/min., .8 psi). The universal valve fittings fit all popular valves. For added convenience, the cigarette lighter plug is equipped with a 10 ft. long power cord. We recommend topping off towables inflated with 12 volt pumps with a few strokes of AIRHEADs Double Action Hand Pump or Foot Bellows Pump.

AHP-12H

Box Dimensions
5"H x 6"W x 6"L WT: 1.50lbs
Categories

Watersports | Air Pumps

Old Category
FISHING/WATERSPORTS
Copyright 2016 CWR Electronics. All rights Reserved.
All products, services and/or company names mentioned herein are trademarks of their respective owners.