Delkin 2GB Micro SD Card
--- Discontinued ---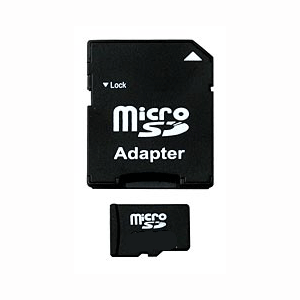 GENERAL INFORMATION
Manufacturer:
Delkin Devices
2GB microSD Card

The microSD is currently the world's smallest removable storage card (roughly a quarter of the size of the standard SD card) and is the newest standard of SD flash memory. This card is specifically designed for use in small devices such as mobile phones and GPS systems, and is fully compatible with current SD devices when used with the included adapter. Like the miniSD, the microSD is ideal for storing media-rich files such as music, videos, and photographs. The card is supported in at approximately 30 percent of handsets announced by manufacturers such as Motorola, Samsung, LG, Kyocera, and Sagem, as well as many GPS systems on the market.

Box Dimensions
1"H x 5"W x 6"L WT: 0.1lbs
Old Category
MEMORY CARDS
Copyright 2016 CWR Electronics. All rights Reserved.
All products, services and/or company names mentioned herein are trademarks of their respective owners.