Midland XT511 Emergency Crank Base Camp Two-Way Radio - 22-Channel/GMRS
--- Discontinued ---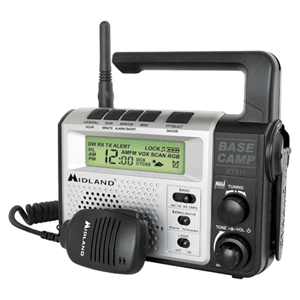 GENERAL INFORMATION
Manufacturer:
Midland Radio
SPEAKER MICS
SKU
Description
List Price
MIDLAND AVP-H3 FBI STYLE EAR BUD MIC W/ COILED EAR BUD
39.99
MIDLAND AVP-1 OVER THE EAR HEADSET PACKAGE (PAIR)
19.99
MIDLAND AVP-H2 CLOSED FACE HELMET HEADSET W/ BOOM MIC
49.99
XT511 Emergency Crank Base Camp Two-Way Radio - 22-Channel/GMRS
With five power options, the XT511 keeps you up-to-date on news and weather alerts even when there is no electricity. A built-in 22-Channel GMRS Two-way radio makes this the ultimate communication tool.
Features:
22 Channels for clear, crisp communication with easy button access

121 Privacy Codes - Gives you up to 3144 channel options to help you block other conversations

NOAA Weather Alert Radio - Automatically alerts for severe weather/hazard information 24/7

5 Call Alerts - Different call tones to notify you of incoming calls from your group

eVOX - 3 Sensitivity Levels - Easy voice activation

Keypad Lock - Locks in your selected settings

Flashlight - Offers light during a power outage

USB Connector - Allows you to recharge your cell phone in an emergency

5 Power Options - Uses 4 standard "AA" batteries, Rechargeable Battery Pack, Dynamo Crank, AC Adapter, or DC Adapter

GMRS Two-Way Radio

Hands-Free Operation

Large LCD with Backlight

Keypad Lock

AM/FM Radio

Alarm Clock with Snooze

Water Resistant - Protects the radio from light water damage

Dimensions - 7.25" x 6.38" x 2.75"
What's In The Box?
XT511

Radio

Accessory Hand Mic

Rechargeable Battery Pack

AC Wall Adapter

DC Adapter

Shoulder Strap

Owner's Manual
Waterproof Rating
Resistant
Box Dimensions
4"H x 8"W x 12"L WT: 2.90lbs
Categories
Outdoor | FRS/GMRS Radios
Camping | FRS/GMRS Radios

Old Category
FRS/GMRS RADIOS
Copyright 2016 CWR Electronics. All rights Reserved.
All products, services and/or company names mentioned herein are trademarks of their respective owners.