Adventure Medical Sportsman Outfitter
--- Discontinued ---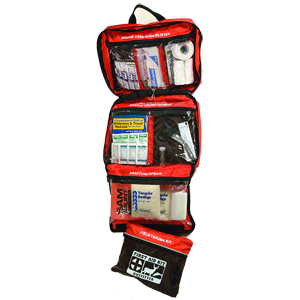 GENERAL INFORMATION
Manufacturer:
Adventure Medical Kits
Outfitter
Group Size: 1-14
Trip Duration: 1-14
Description
The perfect kit for outfitters, guides and to have as a base camp medical kit. Keep the main kit in the car or at base camp and bring the removable Field/Trauma Kit with you in the field or on the boat. Has everything you will need to care for a large group for an extended period in the woods. Includes information and supplies to handle gunshot wounds, arrow injuries and fish hook removal.
Laerdal

SAM

Easy Care First Aid System

EMT shears and Precision splinter picker/tick remover forceps

Wound irrigation system to clean and close wounds

Medications for: diarrhea; inflammation; aches and pains; allergic reactions; bites and stings; and heart attack symptoms

Reflective striping and bright orange fabric keep this kit highly visible and easy to find

Weight: 2lb. 81oz

Size: 11" x 9" x 6.5"
Ideal uses
Group Leaders for Extended Trips

Hunting and Fishing Guides

Hunting and Fishing Outfitters

Remote Base Camps
Bandage Materials
8 Bandage, Adhesive, Fabric, 1" x 3"
7 Bandage, Adhesive, Fabric, Knuckle
2 Bandage, Conforming Gauze, 3"
1 Bandage, Elastic, Self Adhering, 2"
3 Dressing, Gauze, Sterile, 2" x 2", Pkg./2
5 Dressing, Gauze, Sterile, 4" x 4", Pkg./2
2 Dressing, Non-Adherent, Sterile, 3" x 4"
Bleeding
3 Gloves, Nitrile (Pair), Hand Wipe
1 Instructions, Easy Care Bleeding
1 Trauma Pad, 5" x 9"
1 Trauma Pad, 8" x 10"
Blister / Burn
22 Moleskin, Pre-Cut & Shaped
CPR
1 CPR Face Shield, Laerdal
Duct Tape
1 Duct Tape, 2" x 50"
Fracture / Sprain
1 Bandage, Elastic with Velcro, 3"
2 Bandage, Triangular
1 Instructions, Easy Care Fracture & Sprain
1 SAM® Splint, 4" x 36"
Instrument
1 EMT Shears, 4"
3 Safety Pins
1 Splinter Picker/Tick Remover Forceps
3 Thermometer, Disposable
Medical Information
1 Comp. Guide to Wilderness & Travel Medicine
Medication
3 After Bite Wipe
3 Antihistamine (Diphenhydramine 25 mg)
2 Aspirin (325 mg), Pkg./2
4 Diamode (Loperamide HCI 2 mg), Pkg./1
1 Instructions, Easy Care Medications
Wound Care
9 After Cuts & Scrapes Anethestic/Antiseptic Wipe
2 Cotton Tip Applicator, Pkg./2
1 Dressing, Petrolatum, 3" x 3"
1 Instructions, Easy Care Wound
1 Povidone Iodine, 3/4 oz
1 Syringe, Irrigation, 20 cc, 18 Gauge Tip
1 Tape, 1" x 10 Yards
2 Tincture of Benzoin Topical Adhesive
4 Triple Antibiotic Ointment, 1/32 oz
1 Wound Closure Strips, 1/4" x 4", Pkg./10
We reserve the right to add, substitute, or delete items if necessary
Box Dimensions
3"H x 8"W x 8"L WT: 0.9lbs
Categories
Outdoor | Medical Kits
Camping | Medical Kits

Copyright 2016 CWR Electronics. All rights Reserved.
All products, services and/or company names mentioned herein are trademarks of their respective owners.