Adventure Medical Sportsman
--- Discontinued ---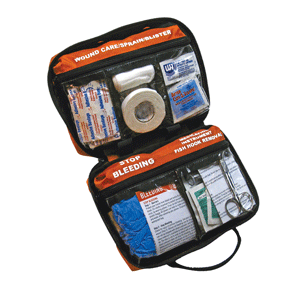 GENERAL INFORMATION
Manufacturer:
Adventure Medical Kits
Sportsman
Group Size: 1-4
Trip Duration: 1-4
Description
Small enough to take with you into the field or on your boat. This is the right kit for recreational hunters and fishermen. Includes emergency supplies for gunshot wounds, stopping bleeding and more.
Easy Care

Medications for: inflammation; pain, allergic reactions; bites and stings; and heart attack symptoms

Field trauma supplies

Hospital quality instruments

Reflective striping and bright orange fabric keep this kit highly visible and easy to find.

Weight: 1lb. 3oz

Size: 7.5" x 6.5" x 3.5"
Ideal uses
Hunting and Fishing Guides

Overnight Hunting and Fishing Outings

Recreational Fishermen

Recreational Hunters

RV / Camper
Bandage Materials
5 Bandage, Adhesive, Fabric, 1" x 3"
5 Bandage, Adhesive, Fabric, Knuckle
3 Bandage, Butterfly Closure
1 Bandage, Conforming Gauze, 3"
1 Bandage, Elastic, Self Adhering, 2"
2 Dressing, Gauze, Sterile, 2" x 2", Pkg./2
2 Dressing, Gauze, Sterile, 4" x 4", Pkg./2
2 Dressing, Non-Adherent, Sterile, 3" x 4"
Bleeding
2 Gloves, Nitrile (Pair), Hand Wipe
1 Instructions, Easy Care Bleeding
1 Trauma Pad, 5" x 9"
Blister / Burn
11 Moleskin, Pre-Cut & Shaped
Instrument
3 Safety Pins
1 Scissors, Bandage with Blunt Tip
1 Splinter Picker/Tick Remover Forceps
Medical Information
1 Comp. Guide to Wilderness & Travel Medicine
Medication
2 After Bite Wipe
2 Antihistamine (Diphenhydramine 25 mg)
2 Ibuprofen (200 mg), Pkg./2
1 Instructions, Easy Care Medications
Wound Care
5 After Cuts & Scrapes Anethestic/Antiseptic Wipe
1 Cotton Tip Applicator, Pkg./2
1 Dressing, Petrolatum, 3" x 3"
1 Instructions, Easy Care Wound
1 Tape, 1/2" x 10 Yards
1 Tincture of Benzoin Topical Adhesive
3 Triple Antibiotic Ointment, 1/32 oz
We reserve the right to add, substitute, or delete items if necessary
Box Dimensions
3"H x 6"W x 8"L WT: 1.3lbs
Categories
Outdoor | Medical Kits
Camping | Medical Kits

Copyright 2016 CWR Electronics. All rights Reserved.
All products, services and/or company names mentioned herein are trademarks of their respective owners.