Timex Ironman Pedometer w/Calories, Timer, Speed & Step Rate
--- Discontinued ---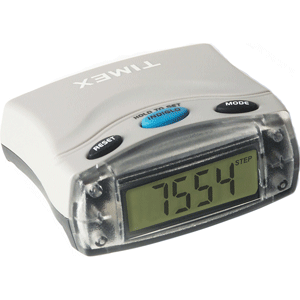 Pedometer
Being active is part of a healthy lifestyle that can make you feel better an even live longer. Take along the outstanding accuracy and renowned quality of a Timex Pedometer to help you reach your daily activity targets.
Counts steps (up to 99,999)

Tracks distance in miles or kilometers

Computes calories burned

Automatic activity timer

Average speed

Step rate

Easy-to-read with INDIGLO® night-light

Integrated belt clip

Extra battery included
Box Dimensions
1"H x 5"W x 9"L WT: 0.2lbs
Categories
Outdoor | Fitness / Athletic Training

Copyright 2016 CWR Electronics. All rights Reserved.
All products, services and/or company names mentioned herein are trademarks of their respective owners.