Minn Kota RipTide SM RT55/SM/L-D/SC Bow-Mount Trolling Motor - 12V-55lbs-52"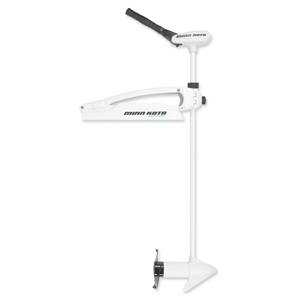 SKU
Description
List Price
MINN KOTA MKP-9 PROP NUT 3/8" 2 WASHERS 2 PINS A
6.99
MINN KOTA MKP-32 PROP 209-1160 WEEDLESS WEDGE 2
26.99
MINN KOTA MKA-29 BOW MOUNT STABILIZER KIT
39.99
RAM MOUNT TOUGH CLAW TROLLING MOTOR STABILIZER
67.47
MOUNTING BRACKETS
SKU
Description
List Price
RAM MOUNT TROLLING MOTOR STABILIZER W/ LONG ARM
69.64
RAM MOUNT TROLLING MOTOR STABILIZER W/ UNIV STRAP BASE
52.15
TRANSDUCERS
SKU
Description
List Price
MINN KOTA MKR-15 TRANSDUCER MOUNTING KIT
19.99
ELECTRICAL
SKU
Description
List Price
MINN KOTA MK-BM-1D DIGITAL BATTERY METER
14.99
MINN KOTA MKR-12 QUICK CONNECTOR PLUG
9.99
MINN KOTA MKR-20 TROLLING MOTOR PLUG
19.99
POWER/CHARGING CABLES
SKU
Description
List Price
MINN KOTA MK-BC-1 BATTERY CONNECTORS
24.99
MINN KOTA TROLLING MOTOR POWER CENTER
64.99
Riptide SM
Saltwater Bow Mount

Precision maneuverability. Accurate bait presentation. Meticulous speed control. You count on your trolling motor for a lot. And along the way, it has to fight corrosion, run quietly and perform with flawless reliability. Riptide® SM is the trusted powerhouse that meets those challenges head on, keeping you in position to make the catch of the day, every day.

Riptide SM Mount
Take to the water with the confidence to power through anything. Tournament-tested, the rugged mount on Riptide SM resists corrosion and performs with flawless reliability. When stowed, the SM mount won't budge, flex or vibrate.

Latch & Door Design
Latch & Door models feature non-binding nylon inserts and anti-seize lubricant for a lifetime of trouble-free use. It allows the motor to remove quickly and easily for safe storage.

5 Speed
This motor features five variable speeds (fwd, rev).

Quick-Lock Cam Depth Adjuster
Change depths simply and securely with the Quick-Lock cam adjuster. It makes depth adjustment simple and locks in tight to keep your motor right where you want it.

Tilt/Extend Tiller
Get the best of both worlds on your hand control motor with the new Tilt/Extend Tiller. It can both tilt (up to 45°) and extend (6") to fit the way you fish.

Push-to-Test Battery Gauge - Riptide SM
Get an instant "state of charge" with this easy-to-read gauge.

Weedless Wedge 2 Prop
Push weeds away and take on the thick stuff without battery-draining chopping and hacking. Weedless Wedge™ 2 features swept-back, flared blades for unrelenting, reliable prop performance.

Advanced Corrosion Protection
Riptide motors are impervious to saltwater's corrosive effects, thanks to premium-grade marine alloys and aluminum upper arms. Metals undergo a rigid multi-step cleaning process before being anodized or coated with a special zinc dichromate armor plating. All components are then finished with a durable 5-mil TGIC polyester, powder coat paint. When it's all done, you're left with unequaled corrosion protection.

Full Encapsulated Electronics
Marine-grade urethane fully encapsulates Riptide control boards to protect the electronic circuitry. Also, all electrical connections are sealed with liquid-tight heat shrink tubing to form an impregnable barrier against saltwater.

Sacrificial Anode
Galvanic corrosion occurs when two dissimilar metals come into electrical contact through saltwater. Riptide fights back with a sacrificial zinc anode, a composite shaft and properly balanced materials that are close in electrical potential. The result is a motor that's completely protected from saltwater's destructive forces.

Indestructible Composite Shaft - Guaranteed For Life!
Pound for pound, our composite shaft is stronger than steel. It flexes on impact and won't break, kink or corrode. That's why we're confident enough to make it the only trolling motor shaft that's guaranteed for life.

Two-Year Warranty
This motor is backed up with Minn Kota's two-year warranty.
Boat Length - Max (Feet)
21'
Control Type
Tilt/Extend Tiller
Mounting Bracket
Latch & Door
Salt Water/Fresh Water
Salt
Shaft Length (Inches)
52"
Voltage - Input Range (Volts)
12v
Box Dimensions
7"H x 20"W x 68"L WT: 60.00lbs
Categories
Boat Outfitting | Trolling Motors

Old Category
TROLLING MOTORS
Copyright 2015 CWR Electronics. All rights Reserved.
All products, services and/or company names mentioned herein are trademarks of their respective owners.