RAM Mount Cradle f/Garmin nüvi® 1300 & 2500 Series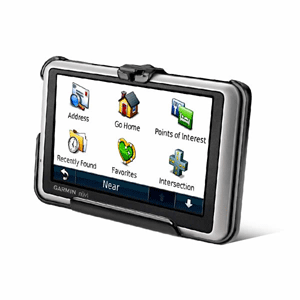 GENERAL INFORMATION
Manufacturer:
RAM Mounting Systems
MOUNTING BRACKETS
SKU
Description
List Price
RAM MOUNT FLEX STICK ON BASE W/ SNAP LINK MOUNT
18.99
RAM MOUNT SCREW DOWN SURFACE MOUNT REQUIRES RAM CRADLE
24.99
RAM MOUNT SUCTION MOUNT TWIST LOCK BASE REQURIES CRADLE
35.49
RAM MOUNT U BOLT MOUNT REQUIRES CRADLE
32.49
RAM MOUNT GOLDWING MOUNT REQUIRES CRADLE
38.49
This RAM high strength composite cradle is designed to hold the following devices:
Garmin nuvi 1300
Garmin nuvi 1350
Garmin nuvi 1350T
Garmin nuvi 1370T
Garmin nuvi 1390T

Material:
High Strength Composite

Note:
The "U" in the part number reflects product packaged in poly bag. The cradle includes a set of two nuts and bolts to connect the cradle to any of the RAM compatible mounts. RAM cradles do not include the RAM-B-238U (Diamond Base & Ball) or RAP-B-238U (Diamond Composite Base & Ball), required to attach to the cradle and RAM mounting system.
Box Dimensions
1"H x 3"W x 5"L WT: 0.15lbs
Categories
Automotive/RV | GPS - Accessories
Ram Mount Store | GPS Mounts

Old Category
GPS AUTOMOTIVE ACCESSORIES
Copyright 2016 CWR Electronics. All rights Reserved.
All products, services and/or company names mentioned herein are trademarks of their respective owners.