Minn Kota PowerDrive V2 55PD V2 12V 55 Lb 54"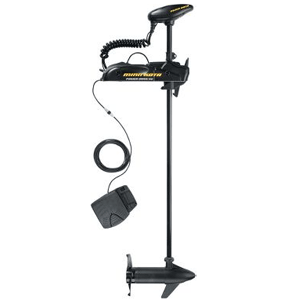 MOUNTING BRACKETS
SKU
Description
List Price
MINN KOTA MKR-15 TRANSDUCER MOUNTING KIT
19.99
RAM MOUNT TROLLING MOTOR STABILIZER W/ LONG ARM
65.99
RAM MOUNT TROLLING MOTOR STABILIZER W/ UNIV STRAP BASE
49.49
RAM MOUNT TOUGH CLAW TROLLING MOTOR STABILIZER
65.99
ELECTRICAL
SKU
Description
List Price
MINN KOTA MK-BM-1D DIGITAL BATTERY METER
14.99
MINN KOTA MKR-12 QUICK CONNECTOR PLUG
9.99
MINN KOTA MKR-20 TROLLING MOTOR PLUG
19.99
POWER/CHARGING CABLES
SKU
Description
List Price
MINN KOTA MK-BC-1 BATTERY CONNECTORS
24.99
MINN KOTA TROLLING MOTOR POWER CENTER
64.99
PROPELLERS
SKU
Description
List Price
MINN KOTA MKP-9 PROP NUT 3/8" 2 WASHERS 2 PINS A
6.99
MINN KOTA MKP-7 PROP 2091150 WEEDLESS WEDGE
24.99
PowerDrive V2 marks an evolutionary leap. Anglers trusted the original PowerDrive on the front of their boats for years. Then, we redesigned it with ergonomic features that deliver more performance than ever. Check out how we've taken one of the most trusted motors on the water and made it even better.


Deploy-Assist Lever - The deploy-assist lever puts you in motion and in pursuit of fish quickly and easily. Depress the lever to deploy the motor and you're ready to go. When it's time to move, it stows easily and securely - ready for action whenever you are.

Ergonomically Designed Foot Pedal - Control speed, steering, and momentary and constant on/off with PowerDrive V2's foot pedal. It features the industry's highest IP68 waterproof rating and an 18' cord.

Digital Maximizer - Digital Maximizer controls and optimizes power to extend battery life and reduce damaging heat. You'll stay on the water up to 5 times longer on a single charge.

Indestructible Composite Shaft - Pound for pound, our composite shaft is stronger than steel. It flexes on impact and won't break, kink or corrode. That's why we're confident enough to make it the only trolling motor shaft that's guaranteed for life.

Cool, Quiet Power - Nothing runs cooler or more quietly than a Minn Kota. Our extra large windings and commutators dissipate heat, resulting in cooler operation, extended battery power, and longer motor life. And our unique bearing system reduces friction to cut fish-spooking noise. So quiet, they'll never hear you coming.
Boat Length - Max (Feet)
21'
Control Type
Electric Steer
Mounting Bracket
PowerDrive
Salt Water/Fresh Water
Fresh
Shaft Length (Inches)
54"
Speeds (Fwd/Rev)
Variable
Voltage - Input Range (Volts)
12v
Box Dimensions
10"H x 19"W x 67"L WT: 43.00lbs
Categories
Boat Outfitting | Trolling Motors

Old Category
TROLLING MOTORS
Copyright 2016 CWR Electronics. All rights Reserved.
All products, services and/or company names mentioned herein are trademarks of their respective owners.