Bennett Training DVD f/Garmin nüvi 1300/1350/1350T/1370T/1390T
--- Discontinued ---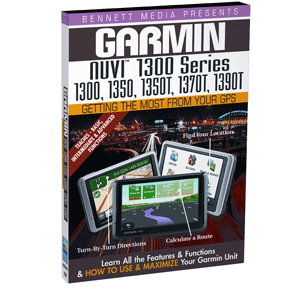 GENERAL INFORMATION
Manufacturer:
Bennett Marine Video
nüvi 1300 Series 1300/1350/1350T/1370T/1390T
Learn all the features & functions & HOW TO USE & MAXIMIZE your Garmin unit. DVD training makes it easy! Interactive menus allow quick and easy chapter review and allow you to go to a specific location time and time again. This step-by-step, instructional training DVD walks you through the key features and functions of the Garmin unit from the basics to advanced operation. Learn everything you need to know to begin using your new satellite navigator, travel companion.
Step-by-Step Lessons Include:
Basic: Introduction, Caution, Addresses, Going to Destinations, Points of Interest, Screen Brightness

Intermediate: Intersection, Map Page Options, Detours, Trip Info, Where Am I, My Data

Advanced: Usage Mode, Adding a Stop, Customizing, EcoRoute, Misc. Features
Box Dimensions
1"H x 6"W x 8"L WT: 0.2lbs
Categories
Entertainment | Videos - Instructional

Old Category
INSTRUCTIONAL MATERIALS
Copyright 2016 CWR Electronics. All rights Reserved.
All products, services and/or company names mentioned herein are trademarks of their respective owners.