Timex Ironman Sleek 50 Lap Floral Mid Size Blue
--- Discontinued ---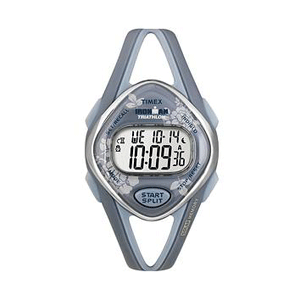 Accept no imitations or limitations. There is only one Timex Ironman. Stylish enough for the weekend warrior, technical enough for the extreme athlete. Don't swim, bike, run, jump, climb, throw, or kick without one.


INDIGLO Night-Light with NIGHT-MODE

Lap Management System

100-Hour Chronograph with Lap and Split Times

50-Lap Memory Recall

Total Run Timer

On-the-Fly Lap or Split Recall

99-Lap Counter

Two Interval Timers

Automatic Interval Repetition Counter

Three Daily Weekly, Weekday, or Weekend Alarms

Two Time Zones

Built-In Setting Reminders

Forward or Backward Setting

Month, Day and Date Display

Durable and Lightweight Resin Case

Floral Pattern on Case

Top Pusher for Easy Operation

Co-Molded Resin Strap

All-Day White Reflector Display

Box Dimensions
3"H x 3"W x 4"L WT: 0.2lbs
Categories
Outdoor | Watches
Outdoor | Fitness / Athletic Training

Copyright 2016 CWR Electronics. All rights Reserved.
All products, services and/or company names mentioned herein are trademarks of their respective owners.