MotorGuide VariMAX V55 HB Freshwater Bow Mount Trolling Motor - Hand Control - 12v-55lb-50"
--- Discontinued ---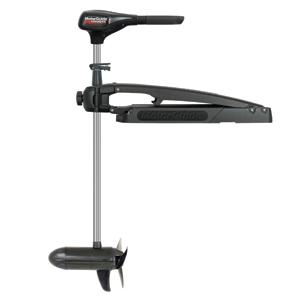 MOUNTING BRACKETS
RELATED ITEMS
ELECTRICAL
PROPELLERS
BATTERY CABLE AND WIRE
With the longest run-time of any motor in its class and the advantage of precise variable speed adjustment, VariMAX gives you the freedom to fish all day with unmatched control of your boat and the guts to get it done, day in and day out.
You'll get over 3x the battery life of traditional 5-speed motors and never have to settle for a little too fast or a bit too slow. Dial it way down and whisper through the shallows, or crank it up and cut through the wind with less amp draw. Fish longer, fish exactly the speed you want, and fish quieter...all with the extreme durability of MotorGuide and our Digital advantage.
Features


Digital variable speed control that minimizes amp draw and maximizes fishing time. Fish up to 3.5-times longer than a 5-speed motor.

Large diameter 1.25" aluminum shaft for greater strength and durability.

Powerful 3.5" diameter VariMAX Digital motors run cooler and last longer.

Intuitive push/pull, forward and reverse speed adjustments.

BluVis integrated speed and battery indicator.

Taper-Lock mount with 7-point adjustment eliminates slack.

One-touch, rapid slide-depth adjustment collar.

Extending Tri-Lobe, soft-touch handle for the perfect feel and control
Control Type
Twist Tiller
Mounting Bracket
Gator Flex 360
Salt Water/Fresh Water
Fresh
Speeds (Fwd/Rev)
Variable
Voltage - Input Range (Volts)
12v
Box Dimensions
8"H x 22"W x 67"L WT: 45.0lbs
Categories
Boat Outfitting | Trolling Motors

Old Category
TROLLING MOTORS
Copyright 2016 CWR Electronics. All rights Reserved.
All products, services and/or company names mentioned herein are trademarks of their respective owners.