RAM Mount Humminbird Piranha Mount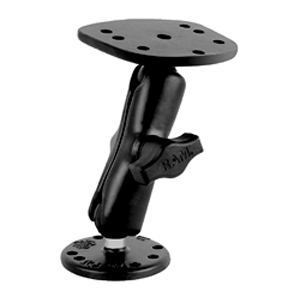 GENERAL INFORMATION
Manufacturer:
RAM Mounting Systems
MOUNTING BRACKETS
SKU
Description
List Price
RAM MOUNT SMALL CABLE MANAGER F/ 1" AND 1.5" BALL BASES
12.49
RAM Flat Surface Marine Electronic Mount for the Eagle Cuda, FishEasy, Humminbird Piranha & Lowrance X-4


The RAM-B-107-1U, powder coated marine grade aluminum mount, consists of a double socket arm, one 2.5" diameter round base and connecting Humminbird/Eagle/Lowrance marine base. The mount is designed with a 1" diameter patented rubber ball and socket system that has adjustment points at the cradle base and bottom base. With a twist of the arm knob, you can move the marine mount to your optimum viewing position.

This mount is compatible with the following electronic devices:
Eagle Cuda 240i
Eagle Cuda 240
Eagle Cude 168
Eagle Cuda 128
Eagle FishEasy 320C
Eagle FishEasy 240
Humminbird Piranha MAX 20
Humminbird Piranha MAX 15
Humminbird Piranha MAX 10
Lowrance X-4
Lowrance X-4 Pro

Material:
Powder Coated Marine Grade Aluminum

Ball Size:
1" Rubber "B" Ball Size

Component 1
RAM-B-107-1BU
Box Dimensions
2"H x 4"W x 6"L WT: 0.60lbs
Categories
Ram Mount Store | Marine Electronics Mounts
Boat Outfitting | Display Mounts

Copyright 2016 CWR Electronics. All rights Reserved.
All products, services and/or company names mentioned herein are trademarks of their respective owners.