RAM Mount Drink Cup Holder w/Suction Base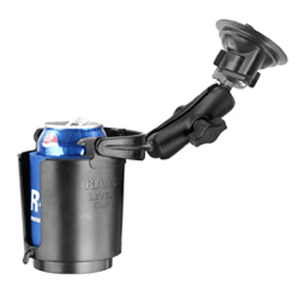 GENERAL INFORMATION
Manufacturer:
RAM Mounting Systems
The RAM-B-132SU consists of a 3.25" suction cup locking base and self leveling drink cup holder. The mount is designed with a RAM 1" diameter rubber ball and socket system that has adjustment points at both ends of the double socket arm; this allowing for almost infinite adjustment and perfect viewing angles. Simply attach the suction cup base to the windshield of your vehicle for an easy and safe way to view your handheld device in your vehicle. High quality materials ensure your electronic device is safe, secure, and within easy reach. RAM's design also dampens shock and vibration helping to extend the life of your mobile device.

Material:
High Strength Composite and Powder Coated Marine Grade Aluminum

Ball Size:
1" Rubber Ball "B" Size
Component 2
RAM-B-166-103U
Box Dimensions
4"H x 7"W x 7"L WT: 0.90lbs
Categories
Paddlesports | Accessories
Ram Mount Store | Drink Cup Mounts
Ram Mount Store | Suction Cup Mounts
Boat Outfitting | Deck / Galley

Old Category
FISHING/WATERSPORTS
Copyright 2016 CWR Electronics. All rights Reserved.
All products, services and/or company names mentioned herein are trademarks of their respective owners.