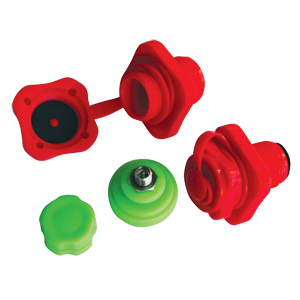 GENERAL INFORMATION
Manufacturer:
AIRHEAD Watersports
AIRHEAD MULTI-VALVE
Inflate with Speed & Flexibility
AIRHEAD MULTI-VALVE consists of 2 Boston valves with different thread patterns on the bottom and a Shrader valve with cap. One of the Boston valves is sure to fit the thread pattern of your inflatable, no matter what brand. The Boston Valves have a square base, which is much easier to turn than a round base, especially with wet hands. Use the Shrader valve to inflate your inflatables at a gas station or with an air compressor. Alternatively, screw off the Shrader valve and inflate the Boston valve with an AIRHEAD air pump. All components are bright red and green, so they're easy to find.
Box Dimensions
2"H x 4"W x 5"L WT: 0.20lbs
Categories
Watersports | Accessories

Old Category
FISHING/WATERSPORTS
Copyright 2016 CWR Electronics. All rights Reserved.
All products, services and/or company names mentioned herein are trademarks of their respective owners.