Garmin GHS 20 Wireless Remote Handset
--- Discontinued ---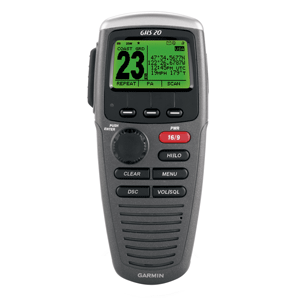 MOUNTING BRACKETS
SKU
Description
List Price
GARMIN NECK LANYARD FOR GHS 20
4.50
REPLACEMENT PARTS
SKU
Description
List Price
GARMIN MICHOPHONE HANGER FOR GHS 20
1.99
INSTRUMENTS
SKU
Description
List Price
GARMIN GWH 20 WIRELESS HUB
149.99
GHS 20 Wireless Remote Handset
Part #: 010-11189-01

The GHS 20 is a wireless remote handset allowing full control of your VHF 200, VHF 300 or 300 AIS series1 radio from a remote location. The simple design offers a backlit LCD display, soft keys and a rotary knob to adjust volume, squelch and channel selection. A 16/9 softkey automates distress calling, while a large rechargeable lithium-ion battery provides a quicker charge and longer range.

For full wireless capability, a GWH 20 wireless hub is required (the radio only supports one GWH 20). We offer a bundled version of the GHS 20 with the GWH 20. The GWH 20 provides intercom capability with the base station and supports up to 3 GHS 20 handsets onboard. Click the In the Box and Versions tabs for more information.
Box Dimensions
4"H x 7"W x 10"L WT: 2.00lbs
Categories
Communication | VHF - Fixed Mount

Old Category
VHF ACCESSORIES
Copyright 2016 CWR Electronics. All rights Reserved.
All products, services and/or company names mentioned herein are trademarks of their respective owners.