Furuno FM4000 VHF Class D w/Built-In DSC
--- Discontinued ---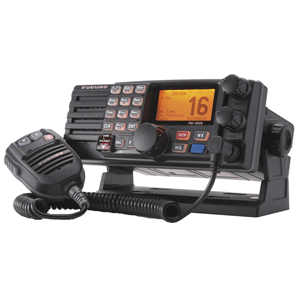 FM4000 VHF Class D with Built-In DSC
The FM4000 Radiotelephone is a rugged, reliable 1 Watt and 25 Watt radio with built-in DSC functionality built to withstand the harshest conditions that may be encountered at sea. Its compact, waterproof case design allows a simplified installation on any steering console, helm or flybridge. Dedicated control buttons and a rapidly operated rotary channel selector offer easy access to all U.S. and international marine VHF channels. Instant Channel 16 access, up-to-date marine weather reports on 10 different channels and other advanced features are at your fingertips.
With the optional Remote Second-Station Control Microphone, available in either black or white finish, you can control all available functions of the FM4000 VHF Radio (except DSC operation) from a remote location such as a deck or flybridge. The remote mic also has a one-touch Channel 16/9 Key and can double as a handy intercom system, allowing you to talk with the FM4000 transceiver.
Features:
25 W or 1 W RF Output Power

Built-in DSC meets Class D ITU-R M493-11/EN 301 025 requirement

30 W PA, FOG, Bells and Whistles with Listen Back

Audio tone control

Waterproof speaker microphone provides clear reception and transmission

Easy channel selection with large rotary control

Quick access to channel 16/9 Key

Features a large alpha numeric keypad

Optional voice scrambler provides private communications with other radios equipped with scramblers
Power Requirements:
13.8 VDC ±20%, 5.0 A max
Channels - Available
All US, Canadian, International
Power - Output (Watts)
25
Waterproof Rating
Waterproof
Box Dimensions
5"H x 13"W x 14"L WT: 6.75lbs
Categories
Communication | VHF - Fixed Mount

Old Category
VHF FIXED MOUNT
Copyright 2016 CWR Electronics. All rights Reserved.
All products, services and/or company names mentioned herein are trademarks of their respective owners.