Interphase Ultrascan PC90 BB Sounder f/PC w/o Transducers
--- Discontinued ---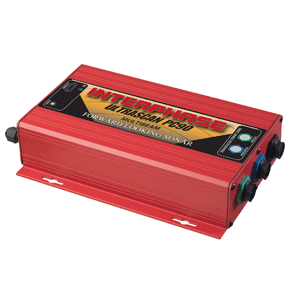 ULTRASCAN PC90
Interphase's new Ultrascan PC90™ is a full 32-bit multi-tasking application that can work simultaneously with other popular marine software. Now you can use your PC to display your position on your favorite chart program while scanning forward underwater looking for shallowing conditions, bottom structure or underwater obstructions with both displays on the same screen at the same time!
Interphase introduces a major breakthrough in scanning sonar technology. The all new Interphase Ultrascan PC90T uses advanced digital signal techniques to create high resolution, forward looking underwater images at the speed of sound. The result is astounding movie-like, streaming video images that show movement of fish, schools of bait, and provides near instant feedback when navigating narrow channels, around rocks, reefs and other underwater obstacles.
Mechanical scanning sonars typically take several seconds to scan a 90-degree segment, and recent "real time" sonars take between one and two seconds to scan over 90-degrees. Interphase's new Ultrascan PC90TM , uses a unique phased array transducer, with no moving parts, to simultaneously form multiple beams across a 90-degree segment. On the 100ft range, Ultrascan displays a complete 90-degree forward scan 24 times every second. Easy to install, Ultrascan's fixed transducer requires no hoist or expensive sea chest. Don't miss the action while waiting for a slow scan to update the display.
The super-fast Ultrascan PC90T shows a live image, just like familiar medical ultrasound images. With Interphase's Ultrascan you'll see underwater action unfold as it happens-not after it's over and gone.
Captains can use the forward looking side-to-side horizontal scanning pattern to navigate in shallow areas or, in deeper water, to locate and track moving schools of fish and bait. Then switch to the forward vertical mode to view changing bottom conditions ahead or warn of obstacles directly in the vessels path. The Ultrascan PC90T also features a full screen or split screen conventional down-looking mode to show the area directly beneath your boat and provide a historical display of the depths below.
Complete with forward ranges to 1,200 feet, depths to 600 feet, auto-range, auto gain, forward alarms and many other advanced features.
ULTRASCAN PC90 FEATURES

Ultra Fast- Up to 24 FPS on 200ft Range

4 Power Outputs- From 100 Watts to 1.6kW RMS

Bottom Depths to 600ft

Scanning Beam 12° (Width of Beam Approx. 20ft at 100ft distance)

16 Colors- To Indicate Signal Strength

Connects to PC Via Ethernet

Power and Data LED's

Can Work With Existing Interphase Scanning Transducers

TVG- Time Variable Gain Receiver

Power: 10-35 VDC at 0.5AMP


SOFTWARE FEATURES

Hi Resolution Display Capability

Vertical and Horizontal Scan Displays

Forward Range Alarms

Full and Split Screen Displays

Automatic or Manual Gain and Depth Adjustments

Maximum Forward Range: 1200ft

Maximum Bottom Depth Range: 600ft

Screen Capture Mode
Box Dimensions
5"H x 11"W x 13"L WT: 4.4lbs
Categories
Marine Navigation & Equipment | Fishfinder/Sounder - Color
Marine Navigation & Equipment | Black Box Modules

Copyright 2016 CWR Electronics. All rights Reserved.
All products, services and/or company names mentioned herein are trademarks of their respective owners.