Norcold Portable Refrigerator/Freezer - 86 Can Capacity - 12VDC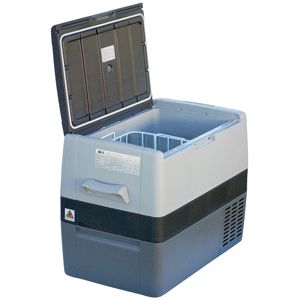 POWER/CHARGING CABLES
SKU
Description
List Price
NORCOLD AC ADAPTER FOR NRF REFRIGERATOR/FREEZER
59.99
Portable Refrigerator/Freezer - 86 Can Capacity - 12VDC
Norcold compressor refrigerator/freezer
When your food and drink needs to stay cold - even on the hottest summer day! Better than a cooler! No Ice!
Features:


Capacity: 60 Liters/2.12 Cu Ft/86 Cans

CFC-free insulation foam and refrigerant

Hermetically Sealed Compressor with built-in low voltage protection

Electronic Temperature Control Panel displays the internal temperature and allows you to set desired temp

Indicator light alerts you to installation issues

Separate refrigerator-only section prevents freezing of select items

Battery protection with three settable levels prevents battery drain and automatically turns back on when voltage returns

Easy-to-clean, removable wire basket for convenience

Stainless-steel interior prevents stains and improves cooling

Durable and corrosion-proof plastic exterior with heavy-duty removable handles

Included DC cord with cigarette lighter plug

Optional adaptor allows AC Operation

Optional carrying case helps protect refrigerator

Easily reversible and removable Hinge Lid

Two-year limited warranty
Box Dimensions
19"H x 24"W x 29"L WT: 56.05lbs
Categories
Camping | Accessories
Boat Outfitting | Deck / Galley

Copyright 2016 CWR Electronics. All rights Reserved.
All products, services and/or company names mentioned herein are trademarks of their respective owners.