Oceanair SKYSCREEN Roller Surface Size 30 - Beige
--- Discontinued ---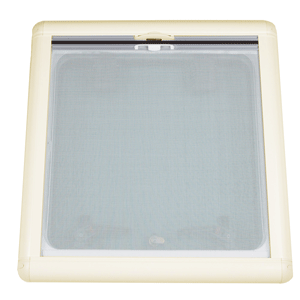 SKYSCREEN Roller Shade Size 30 - Beige
Width: 457mm (18") Height: 327mm (12 7/8")
SKYSCREEN Roller Surface is a combination blackout shade and insect screen for hatches. It requires no recess or cavity and can be easily fitted to existing hatches.
Features:
The easy fit solution for all budgets

Ease of installation on the surface of the headlining, ideal for retrofit

Ideal hatch solution for boats with thin decks, and soft, or no headlining

Optional trim and liner systems resolves throughdeck engineering challenges

Soft-edged, low-profile design

Can be retro-fitted to existing hatch trim surrounds, providing the trim is less than 12mm

Wide range of standard sizes ensures that there is a SKYSCREEN to fit most brand-name hatches
Optional trim and liner systems resolve all throughdeck engineering challenges
Box Dimensions
6"H x 4"W x 27"L WT: 4.0lbs
Categories
Boat Outfitting | Accessories

Copyright 2016 CWR Electronics. All rights Reserved.
All products, services and/or company names mentioned herein are trademarks of their respective owners.