AIRHEAD Bling 4 Rider Tube Rope - 60'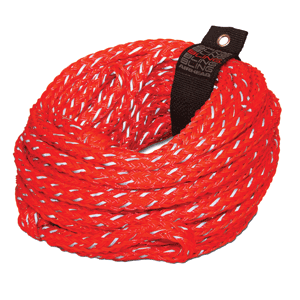 GENERAL INFORMATION
Manufacturer:
AIRHEAD Watersports
RELATED ITEMS
SKU
Description
List Price
TOW HARNESS
SKU
Description
List Price
AIRHEAD HEAVY DUTY TOW HARNESS 16 FT. 1-4 RIDER
32.99
TOW ROPE
SKU
Description
List Price
AIRHEAD BUNGEE TUBE ROPE EXTENSION
14.99
AIRHEAD BLING Tube Ropes
AHTR-14BL:
4,100 lb. Tensile Strength, for up to 4 Rider Towables

These ropes will give you swagger! AIRHEAD's BLING Series ropes add another dimension to towing, as they sparkle in the sun and glow in twilight! The extravagant look compliments the luxury of high end boats, adds a little class to lesser boats and makes you look like a watersports pro! BLING series ropes are one of a kind, shiny and reflective material is braided together with top quality polypropylene. These tube tow ropes are 60 ft. long with a loop at each end. A "totally blinged-out" rope keeper is included.

Box Dimensions
4"H x 10"W x 12"L WT: 2.20lbs
Categories
Watersports | Tube Ropes

Old Category
FISHING/WATERSPORTS
Copyright 2016 CWR Electronics. All rights Reserved.
All products, services and/or company names mentioned herein are trademarks of their respective owners.