Clymer Sea-Doo Jet Ski & Water Vehicles (1988-1996)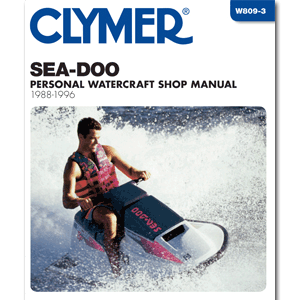 Sea-Doo Jet Ski and Water Vehicles, 1988-1996
Part #: W8093

592 pages

CHAPTER ONE / GENERAL INFORMATION

CHAPTER TWO / TROUBLESHOOTING

CHAPTER THREE / LUBRICATION, MAINTENANCE AND TUNE-UP
Operational checklist / Break-in / 10-hour inspection / Lubrication / Fuel selection / Oil tank / Impeller housing oil change / Flywheel and seal carrier lubrication / Periodic maintenance / Fuel filter / Oil injection oil filter / Engine drain tube / Tether switch operation / Intake grate / Impeller / Flame arrestor / Water tank drain trap / Control cables / General inspection and maintenance / Tune-up / Cylinder head torque / Cylinder compression test / Spark plug / Ignition timing / Carburetor adjustment / Idle speed / Specifications

CHAPTER FOUR / ENGINE
Engine number identification / Engine rotation / Engine lubrication / Servicing engine in hull / Special tools / Engine removal installation / Engine support and rubber mounts / Jet pump engine alignment / Exhaust pipe and manifold / Engine top end / Cylinders / Rotax automatic variable exhaust / Piston, pin and rings / Crankcase, crankshaft and rotary valve / Rotary valve and shaft / PTO flywheel / Specifications

CHAPTER FIVE / DRIVE SYSTEM
Jet pump / Seal carrier / Seal assembly / Support bearing / Variable trim system / Reverse system / Specifications

CHAPTER SIX / FUEL SYSTEM
Fuel system identification / Flame arrestor and air silencer / Carburetor / Carburetor pressure testing / Fuel pump / Fuel tank / Fuel valve / Fuel sensor / Fuel system pressurization / Specifications

CHAPTER SEVEN / ELECTRICAL SYSTEM
Battery / Charging system / Flywheel and stator plate / Ignition housing / Engine front housing / Electric box / Switches / Fuel level sensor / LCD fuel gauge / Oil level sensor / Fuse / Wiring diagrams / Specifications

CHAPTER EIGHT / OIL INJECTION SYSTEM
System components / Oil pump service / Component replacement / Oil pump / Specifications

CHAPTER NINE / COOLING SYSTEM
Cooling system identification / Hose and hose fitting / Factory hose clamps / Engine drain hose / Cooling system flushing / Water flow regulator / Specifications

CHAPTER TEN / STEERING SYSTEMS
Handlebar cover / Handlebar grips / Steering stem / Steering cable / Handlebar / Specifications

CHAPTER ELEVEN / OFF-SEASON STORAGE

INDEX

WIRING DIAGRAMS

Models covered:
1988 1989 1990 1991 1992 1993 1994 1995 1996 SEA-DOO GSX
1988 1989 1990 1991 1992 1993 1994 1995 1996 SEA-DOO GT
1988 1989 1990 1991 1992 1993 1994 1995 1996 SEA-DOO GTI
1988 1989 1990 1991 1992 1993 1994 1995 1996 SEA-DOO GTS
1988 1989 1990 1991 1992 1993 1994 1995 1996 SEA-DOO GTX
1988 1989 1990 1991 1992 1993 1994 1995 1996 SEA-DOO HX
1988 1989 1990 1991 1992 1993 1994 1995 1996 SEA-DOO SEA-DOO STANDARD
1988 1989 1990 1991 1992 1993 1994 1995 1996 SEA-DOO SP
1988 1989 1990 1991 1992 1993 1994 1995 1996 SEA-DOO SPI
1988 1989 1990 1991 1992 1993 1994 1995 1996 SEA-DOO SPX
1988 1989 1990 1991 1992 1993 1994 1995 1996 SEA-DOO XP
1988 1989 1990 1991 1992 1993 1994 1995 1996 SEA-DOO XP-800
Box Dimensions
1"H x 8"W x 11"L WT: 2.90lbs
Return Policy
This item is non returnable and / or subject to a restock fee as per our returns policy.
Categories
Winterizing | Repair Manuals
Boat Outfitting | Repair Manuals

Old Category
INSTRUCTIONAL MATERIALS
Copyright 2016 CWR Electronics. All rights Reserved.
All products, services and/or company names mentioned herein are trademarks of their respective owners.