Bounty Hunter Headphones
--- Discontinued ---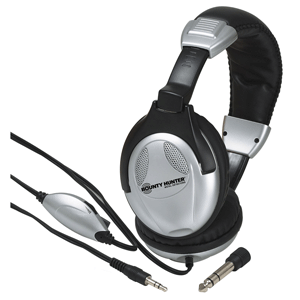 GENERAL INFORMATION
Manufacturer:
Bounty Hunter
Bounty Hunter Headphones

Designed for use with Bounty Hunter metal detectors. The adjustable headphone is small, light weight with true stereo sound. Soft leather earpiece pads surround the ears for a comfortable fit. The extra long 8' cable with volume control provides for easy access and mobility. The headphone features a 1/8" mini plug along with a 1/4" adaptor for compatibility with most audio electronics.
Box Dimensions
4"H x 7"W x 9"L WT: 1.20lbs
Categories
Outdoor | Metal Detectors

Copyright 2016 CWR Electronics. All rights Reserved.
All products, services and/or company names mentioned herein are trademarks of their respective owners.