Starting a marine business has never been easier Click below to complete a CWR Wholesale Distribution dealer application!
At CWR, we believe conducting business should be simple. With CWR Wholesale Distribution as your drop shipping source, you have a powerful team of full-service wholesale marine distribution experts working for you. With over 300 manufacturers, CWR offers a variety of assorted products for not only marine use, but also camping, sailing, sporting goods, paddle sports, watersports, cycling, training/fitness, hunting, fishing, consumer electronics, automobiles, recreational vehicles and more. CWR is also one of the leading drop-shippers in the marine industry and will drop ship to any location in the world. CWR's drop ship program is stress-free with no extra fees or minimum order sizes, all while using your own shipping label and packing slip. Become a CWR Wholesale Distribution Dealer today!
Digital Yacht BOATraNET Wireless Server - No Embedded Cartography - NMEA2000 Version
ZDIGBNET2K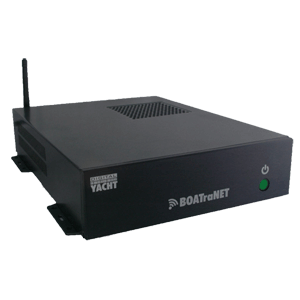 BOATraNET - NMEA2000 Version - No Embedded Cartography

BOATraNET is a truly unique and innovative product that "e-nables" your existing navigation system and creates a dynamic, local intranet for your boat. Imagine having your own automatic website that shows visitors to your boat, all of the most important navigational information and gives them access to the photos, documents and music that you want them to share and enjoy.

BOATraNET integrates with the boat's existing navigation system via NMEA 0183/2000 and automatically creates animated instrument and navigational displays (web pages) of your data.

It creates a wireless hotspot that works with iPhones, iPads, iPod Touch, Android Devices, Smart Phones, Laptops, Windows, LINUX and Mac OS X PCs. Anyone onboard can connect, enter the password you give them, and then using the wireless device's own web browser (no special app required) view the data, even when out at sea without an internet connection.

BOATraNET incorporates a Navionics based chart plotter, that shows you where you are on the chart, a music player that can play music on your boat's hifi or stream music to your wireless devices, plus photo and document viewers that you control from your wireless device's web browser. Connect BOATraNET to one of Digital Yacht's long range Wi-Fi adaptors and when you are in the marina, you can easily connect to the marina's hot spot and share the long range Wi-Fi connection, with everyone connected to BOATraNET.